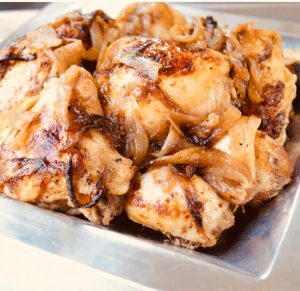 Presenter Amy Stopnicki, author of cookbook "Kosher Taste" – Balsamic Chicken:
2 tbsp. Olive oil
5 onions, thinly sliced
1 cup balsamic vinegar
½ cup honey
¼ cup soy sauce
5 cloves garlic, chopped
2-3 sprigs fresh rosemary
2 chickens cut in 8ths
Cook down onions in the olive oil for a few minutes on low. Meanwhile, mix vinegar, honey and soy sauce together. Then add sauce to pan with the onions. After a few minutes, pour the onions and sauce over chicken in a large pyrex. Marinate for a half hour, and then bake in oven at 350 degrees for 20 mins, and uncovered for an additional 20 mins.