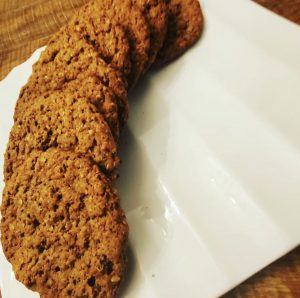 Presenter: Mo Oziel, In the Manor Catering
Ingredients:
1 cup + 1 tsp. all purpose flour
1 tbsp. ground cinnamon
1.5 tsp. baking soda
1.25 tsp kosher salt
1/2 cup + 3.5 tbsp. brown sugar
1/4 cup + 1.5 tbsp. granulated sugar
5.5 oz (room temp) butter or margarine
1/4 c. eggs
1.25 tsp. vanilla extract
2 cups old fashioned oats
1 cup. mixed raisins
Directions:
Sift flour, cinnamon, salt, and baking soda and set aside
Using a mixer with a paddle attachment, beat margarine for 3 min. until soft peaks form, like a mayo consistency
Mix sugars in bowls and stir together breaking up the clumps
Add sugar mixture to butter in 2 parts, mixing in between.
Once incorporated, mix for 4 minutes. Don't forget to scrape down bowl to evenly distribute ingredients.
Add eggs and vanilla in 2 parts mixing well each time to incorporate.
Add the dry ingredients in 2 parts as well, mixing and scraping down the bowl.
Once everything is well incorporated, mix in oats and raisins.
Scoop out dough into balls. Lightly roll and press down.
Bake at 325 F degrees for 12-15 minutes.