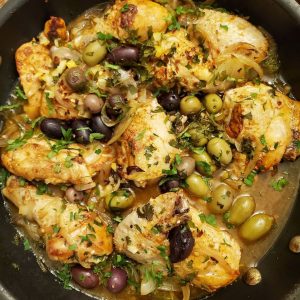 Presenter: Mo Oziel, from In the Manor Catering – Olive Chicken & Moroccan Couscous
1 chicken, cut in 8ths, skin removed
1 tsp salt
1 tsp pepper
1 tsp paprika
¼ tsp saffron, crushed
¼ tsp cayenne pepper
1 tbsp. Olive oil
2 onions, sliced
3 cloves garlic, chopped
¼ tsp chili flakes 
1 cup pitted green olives
1 cup pitted black olives
1 preserved lemon chopped
Chopped cilantro
Chopped parsley
Marinate chicken together with salt, pepper, paprika, saffron, cayenne, and olive oil in large Ziploc for 6 hrs. Sear chicken on medium heat in pan for 5 mins. Sprinkle salt and pepper on each piece. Remove chicken from pan for now.
Set oven to 350 degrees.
Saute onions and garlic, then remove from pan. Replace the chicken back on the heat, and spread onions and garlic over it. Add some preserved lemon.
Place green and black olives in the pan with the chicken. Sprinkle chili flakes, cilantro and parsley over it.
Transfer entire dish to baking pyrex – cook uncovered for 30 mins in oven, and uncovered for 15 mins more. Finally, broil for 5 mins until browned.
Medium couscous
Turmeric, salt, pepper
Oil
Butternut squash
Cranberries
Boiling water
Use 1 ¼ cup of water per 1 cup of couscous.
For flavour, boil water with celery, peppercorn, salt and carrot inside pot.
In a bowl, toss couscous with turmeric, oil, and mix while dry. Add salt and pepper.
Pour the boiling water (minus the vegetables) over the couscous bowl. Cover with saran wrap. Once cooled, fluff with fork.
Use frozen bag of butternut squash and roast on a pan with olive oil at 350 for 25 mins.
Rehydrate dried cranberries with some hot water, drain.
Add squash and cranberries on top of the couscous.