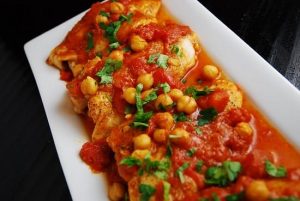 Presenter Stella Osiel
Peel 1 head of garlic and saute in olive oil.
Add red pepper sliced
2 tbsp. Paprika
1 can chickpeas
½ can diced tomatoes
Salt
Pepper
Chili powder
Cayenne, if you like
Fresh Cilantro, to taste
Cook in pan for 6 mins.
Add cod or salmon to pan. Add a splash of water to sauce.
As it cooks, pour sauce over the fish occasionally. Cook for 10 mins.