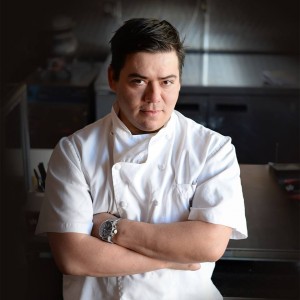 Born and raised in a Jewish neighborhood in Mexico City, Chef Katsuji Tanabe has worked inside LA's most acclaimed kitchens, and is the owner and chef of Mexikosher, the first authentic kosher, Mexican restaurant in Los Angeles, and the first of its kind in the entire United States. However, Tanabe doesn't keep kosher outside his restaurant. In fact, he isn't even Jewish. The son of a Japanese father and a Mexican mother, Chef Katsuji simply found that kosher food was his calling. "I always tell people that when you are a chef you get to pick what you want to make. But I didn't pick kosher. Kosher picked me. And because of it, I've turned into a much better chef."
Chef Katsuji began cooking when he was six years old. At 18, when he moved to Los Angeles with his mother, he decided to get a proper culinary education. While enrolled at Le Cordon Bleu, Chef Katsuji took on internships in local restaurants, followed by working as a line cook. By the age of 24, he appeared on PBS's Cooking Under Fire, on which he was one of 12 finalists.Despite not winning the competition, shortly thereafter, he was hired as the sous chef at Mastro's Steakhouse in Beverly Hills.
One fateful evening, Chef received a call from another neighborhood restaurant: Shiloh's Kosher Steakhouse, a glatt-kosher fine-dining establishment that wanted to hire him for consulting work. He agreed, not yet even realizing that Shiloh's was kosher. Interestingly enough, he soon became executive chef, coming up with dishes such "bacon-wrapped scallops," faux-pork chops, and a "bacon cheeseburger," all, of course, without using any treif ingredients.
In 2011, Chef Katsuji excitedly decided to venture out on his own and open up Mexikosher, which is enthusiastically sought after by kosher foodies everywhere. Serving everything from Mexican dishes like steak tacos, burritos, to a variety of spectacular daily specials, Chef Katsuji has become famous for making his food a reflection of himself; flavorful, fun and full of passion and personality!
Chef Katsuji has also become world-renowned on television for both his charm and cooking skills. From The Travel Channel's Chow Masters and Food Network's Chopped, which he won,to becoming a runner-up on Bravo TV's Top Chef, a contestant on Top Chef Mexico, a
professional chef contender on NBC's Food Fighters, and a judge on Master Chef Mexico- Chef Katsuji is becoming a household name far beyond the kosher world.
Nevertheless, Chef Katsuji's dedication is to the Jewish community, which he is very grateful for and feels blessed to be a part of it. He is proud to be a personal mentor and celebrity representative for Jewish Big Brothers & Big Sisters, where he happily offers his time and expertise for fundraisers, as well as working alongside the children teaching healthy eating and cooking. He frequently welcomes the opportunity to give back to the community by making appearances and doing demonstrations for numerous charitable Jewish organizations, great and small. Chef Katsuji has a lot of new and exciting projects on the horizon that he looks forward to sharing with the world, as he is always striving to up the ante on kosher food. "The Jewish community is very close," he says. "I got in somehow. I went first to their stomachs."