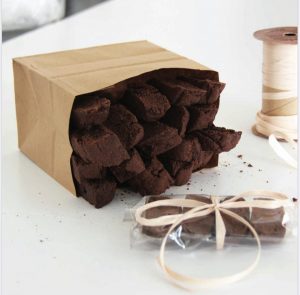 Presenter Amy Stopnicki, Author of Cookbook "Kosher Taste"
Ingredients:
2 eggs
2 egg whites
1 1/2 cups sugar/coconut sugar
3/4 cup canola oil
1 tsp. vanilla extract
3/4 c. cocoa (the darker the better)
3 cups flour
1 tbsp. baking powder
1/2 tsp. salt
1/2 cup mini chocolate chips
Directions: 
Preheat oven to 350 degrees
Combine eggs, egg whites, sugar, oil, and vanilla in a mixing bowl
Sift cocoa, flour, baking powder, and salt and add to wet mixture
Add chocolate chips and form mixture into a dough
Separate into 6 even-sized balls.
Form each ball into logs that are 1 inch wide and 12 inches long
Place on a parchment-lined cookie sheet and bake for 10 minutes or until set
Let cool for 5 minutes. Then cut into 3/4 inch slices.
Reduce heat to 325 degrees F, place slices flat side down on the cookie sheet and bake for another 15-20 minutes or until cookies are hard to the touch.