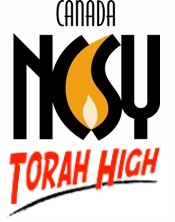 PROGRAM COORDINATOR, VANCOUVER
Job Description:
NCSY and Torah High, Canada's premier national outreach and education organizations for Jewish youth, are currently seeking a Program Coordinator to work directly with the City Director, Vancouver.  The Program Coordinator will be responsible to oversee the execution and growth of specific NCSY programs.  They will look to develop both the quality of the programs they run, as well as the number of students the programs reach.  Additionally, the candidate will have an acute focus on developing relationships with teens and moving them along the Mitzvah observance spectrum.  They will have specific metrics they will be responsible for, relating to both the number of teens they reach and the impact they have on them.
Responsibilities Breakdown:
Programming
Teaching at one of the local Jewish schools – VTT/RJDS/King David
                JSU        
Run 2 JSU Clubs Weekly in the Tri-City area or Surrey/ Richmond
Recruit and develop appropriate club Presidents
Accountable for metrics relating to:

number of teens reached in the school
average weekly attendance
Number of teens transitioned to weekly learning, Shabbat meals, shabbatons, and social/holiday events
                Torah High
Teach a Torah High course, while creating relationships with the students, enabling the class to be a springboard to other NCSY programs and events
Recruit new students for Torah High
Participate in the Torah High Beit Midrash program
                Student Board
Attend Vancouver Student Board meetings
Create and run Richmond student board (monthly meetings)
                Learn N Earn
Run a weekly Learn N Earn/Latte N Learn program in Richmond
                Alumni
Create and run a Vancouver NCSY Alumni program
JFX
Create and run an ongoing program for Vancouver NCSY Families
Recruit new families
Lunch and Earn
Recruit Run a Lunch N Learn once in 2 weeks at King David
Create an additional Lunch N Learn at one of the local kosher restaurants
Live2Give
Participate in Live2give events over the course of the year
Organize all logistics for the events
Recruit students for events
Follow up with each teen after the event
                Shabbatons
Attend Vancouver Shabbatons and out of town Shabbatons
Shabbos Meals/Onegs
Host teens/parents for Shabbat/Yom tov in their home 1-2x a month for a minimum total of 15 shabbat meals hosted per year
Relationships
The Program Coordinator will be responsible to develop relationships with teens and oversee their personal growth process.
Responsible to learn b'Chavruta with 5 teens weekly

Bi-weekly follow up with City Director to track the students and to set actionable steps relating to their personal growth.
Administration, Training, and Marketing
Attend Staff Con
Attend bi-annual infrastructure meetings and bi-weekly office update meeting on Monday
Record all data for every event, chavrusah, and Shabbat meal in Iceburg on a weekly basis, no later than Tuesday night of the following week
Oversee creating of flyers for all major events
Coordinate marketing with Shara Tzedek newspaper
To apply please note PROGRAM COORDINATOR, VANCOUVER in the subject heading of email and send your resume and cover letter to resumes@ncsy.ca.
Deadline for submission is Wednesday, July 7, 2021.
We thank all candidates for their interest, however only applicants chosen for an interview will be contacted.