The Toronto chapter of NCSY Canada services high school teens and juniors (Grades 6-8) residing in Toronto.
NCSY's Toronto chapter runs a variety of Jewish programming throughout the year including–
Learn n' Earn and 4G;
JFX (Jewish Family Experience) for the parents of our teens;
Student Executive Board (SEB) for teens who want to take on a leadership role; and
NCSY Campus, for our alumni in university campuses across Canada.
Please click on the links above for a detailed explanation of each programs and how you can join.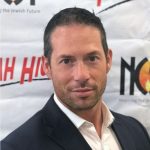 Rabbi Mark Rose, Thornhill City Director